VICTOR INDUSTRIAL GAS EQUIPMENT & GOUGING TORCHES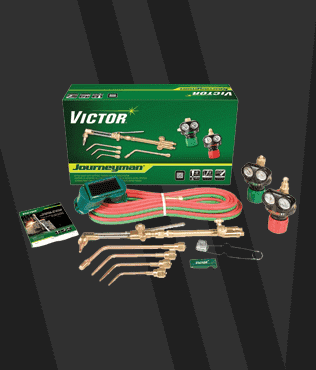 THE LEADER IN GAS EQUIPMENT FOR MORE THAN A CENTURY.
Victor's tradition of unparalleled safety, performance and reliability remains a cornerstone of the brand.
Our products include:
Cutting, heating and welding outfits
Handles, attachments, nozzles and tips
Straight and machine torches
Gas regulators and flow meters
Powder spray torches
Portable cutting machines
Flashback arrestors and accessories
Victor's founder invented the modern torch and regulator. With products like the revolutionary Victor EDGE™ regulators, we continue to offer the highest quality gas equipment available.
THE INVENTOR OF ARC GOUGING AND EXOTHERMIC CUTTING.
Arcair and SLICE products are synonymous with the air-carbon arc gouging and exothermic cutting processes.
Manual torches, cables and holders
Automatic gouging systems
Carbon rods and plate
SLICE cutting systems and rods
Underwater cutting, gouging and welding
Arcair invented arc gouging in 1949, and we've been the leading name in metal removal and cutting ever since.